Crete is well-known for its natural beauty! Check out those 4 unbelievable places on the exotic south coast of the island! From East to West.
Gaidouronissi, or Chrysi
Gaidouronissi or Chryssi just 8 miles south of Ierapetra and people just call it "a small heaven on earth". A tiny uninhabited virgin island of rare natural beauty, protected by the EU Natura 2000 programme Emerald beaches, covered by pink shell chips and a beautiful cedar tree forest to be discovered. The boat to Gaidouronissi departs 10:30 from Ierapetra and lasts for about an hour.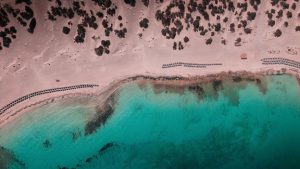 Photo source: https://www.discovergreece.com/experiences/boat-trip-chrissi-cretes-golden-isle
Martsalo
Totally secluded beach with a church f the Virgin Maria, built in the early Christian period. Apostle Paul disembarked here on his way to Rome, to preach Christianity for the first time. Admire the cells carved on the rocks, where monks and early Christians were hidden nut also the unique scenery with the palm trees and the fantastic blue-green water. You need cross a gorge on hiking path of 40 minutes to get to Martsalo Beach. Map here: https://goo.gl/maps/BUhSve7JMqpoLzos5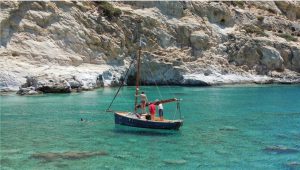 Photo source: https://cretazine.com/crete/routes/routes/item/1257-i-ieri-mageia-tou-martsalou
Agios pavlos
Super impressive sand dunes surround this unique beach, 58km south of Rethymnno town. An idyllic landscape inspiring a combination of dynamism and calmness. Enjoy the beach, the seaside hikes to the other beaches on the east and west but also a totally fantastic sunset. No wonder that the area is a meeting point of yoga fans, who organise various activities and seminars. Great info and photos are found here: http://www.wondergreece.gr/v1/en/Regions/Rethymno_Prefecture/Nature/Beaches/4990-Agios_Pavlos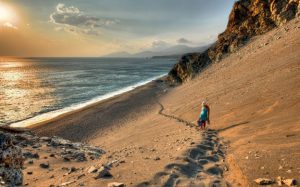 Kedrodasos
An amazing totally secluded beach, 1km east of the famous Elafonissi. An area of 111 hectares full of juniper trees and sand dunes. The beach is loved by naturists. The beach belongs to a Natura protected area and the European path E4 crosses it. yellow and black signs on the way). The access to Kedrodasos is described here: https://creti.co/blog/kedrodasos-beach-crete/ and other useful info are found here: https://www.cretanbeaches.com/en/sea-tourism/west-crete-beaches/kedrodasos-beach-elafonisi